Reedar wrote:
Cheers guys.
RexHavoc wrote:
Looking awesome! That warboss looks ready to krump some fleshys!!
Just how are you getting that yellow to pop??
What yellow are you using? Ive had to go back to using Vallejo goldbrown, as Ive been trying to get a bright yellow with GW yellows, and I just cant get them to look so yellow! (which looks good, buts it clearly more on the brown end of the spectrum!)
What dark sorcery are you using??
@Rex, the yellow isn't anything special:
1. Basecoat of Averland Sunset
2. Layer of Yriel Yellow
3. Wash of Reikland Fleshshade
4. Highlight of either Yriel or Flash Gitz Yellow
You could go to town with mixes and differing shades etc, but I'll leave that to the artists on these boards
yes, but at which stage do you do the ritual sacrifice?!
I'm not so keen on averland, as I find it takes two coats, where vallejo goldbrown takes only one and dries exactly the same colour, even though in the bottle it is a completly different looking shade!
I will try with some Yriel and with the fleshshade wash. I have been using flash gitz over the base coat, but it never comes out right! Its almost as if it was TOO yellow!
Many thanks!
Reedar wrote:
Final pic before he goes in the case.....
Could spent all night on this guy, but you have to call it somewhere.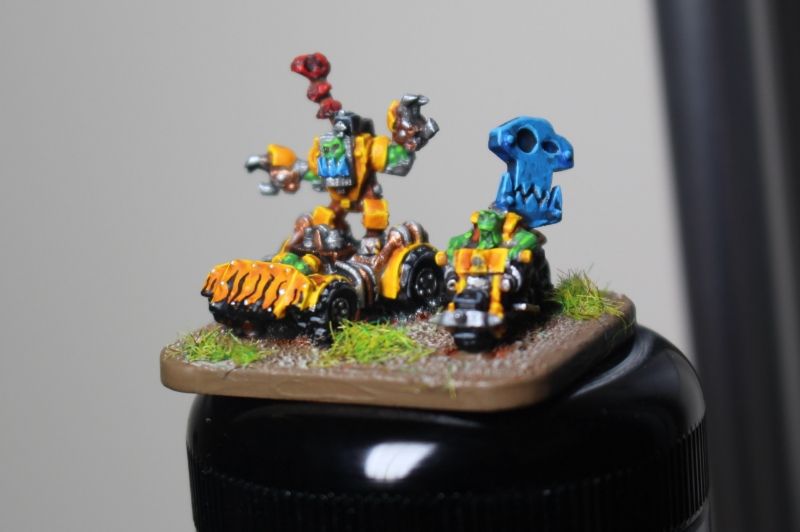 It dawned on me earlier, having spent several hours on this model, that for all the time invested, he doesn't actually add any points to the army...!
He is worth the time you took on him, he looks fantastic! So much so, that your model has convinced me to order some more troublemaker skinnerz. I took a good look at the photos and they appear to be the same models, other then a few slighty more 'iconic' parts removed (which is not an issue)
Like I said before, Ive been a bit put off as my goobos where very delicate, which is no good for my rough house chopping and man handling! But hopefully these will be much better.
_________________
My 6mm fantasy Plog & tutorial Blog:
http://6mmfantasy.blogspot.ie/
My 6mm Sci-fi and skirmish Plog:
Vermin!/Orks!/Micro-munda!