A buch of pictures from todays games.
4 players. 2 games each.
2000 points fully painted armies.
Great games
(Use google translate (from Danish) or just loock at the pictures, to lazy to write it up again in english)
Så var det idag vi havde Episk hygge i Dragon Factory.
Det var rigtig hyggeligt og med god frokost og is
Alle fik spillet to kampe og vi trak lod om hvem som skulle spille mod hvem.
Stephan havde medbragt Eldars
Søren havde medbragt Necrons
Christian havde medbragt Chaos Marines
Jeg selv havde medbragt mine Nidder
Jeg spillede mod Christian og Stephan. To gode kampe, hvor jeg fik bedre styr på nogle af de "nye" regler jeg havde medbragt i min hær idag - Bombardment og Disruption. Begge regler/ mekanismer fungerer super godt og gav lige mine nidder lidt flere strenge at spille på, med lidt mere skydning.
Min liste var noget i retning af 3 billige swarms
1 Dyr swarm med Dominatrix.
3 gange Harridans
3 Dactylis
En gang blandede billeder fra mine kampe:
Bordene der blev kæmpet på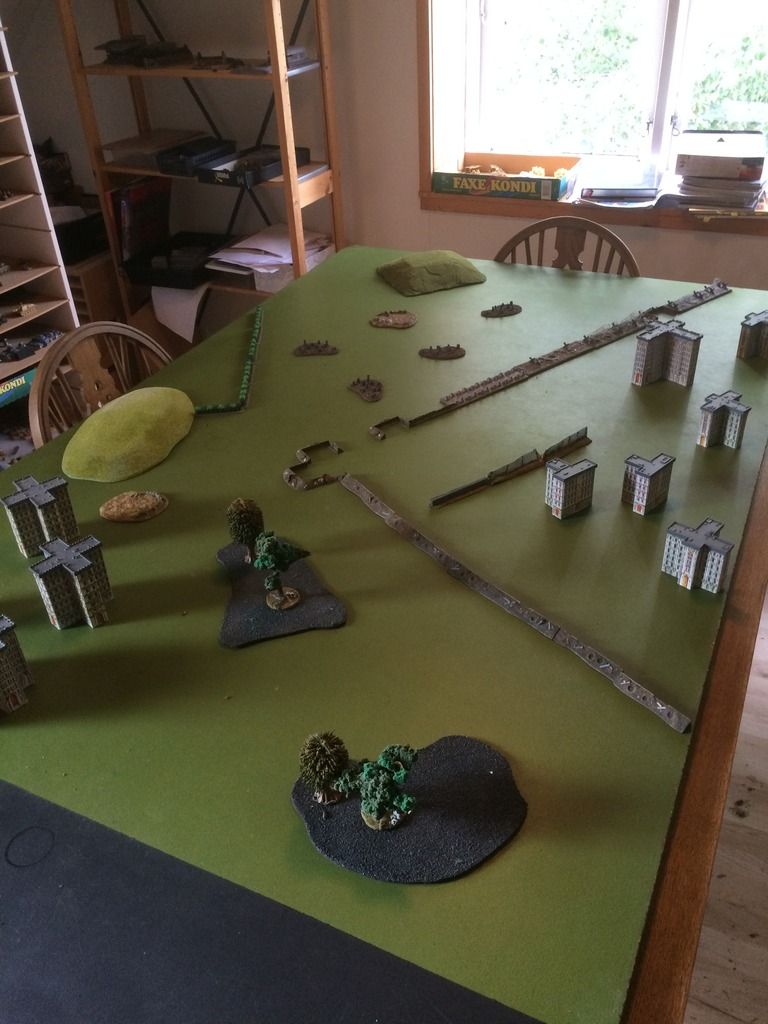 Første kamp efter deployment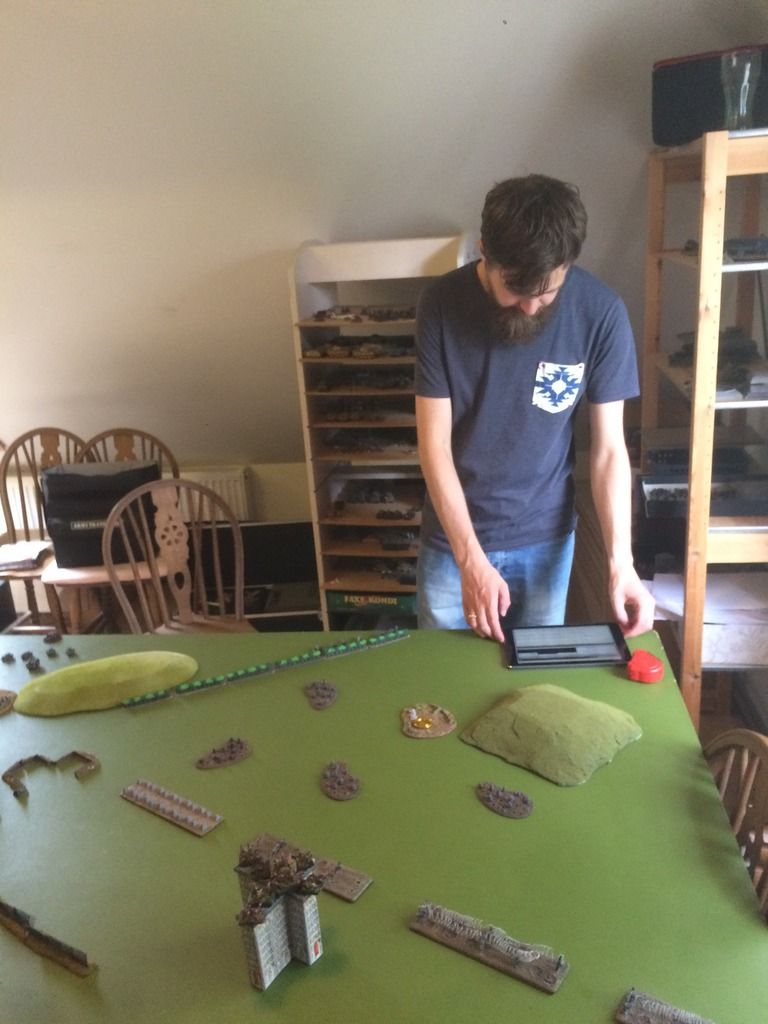 Et billede fra nabokampen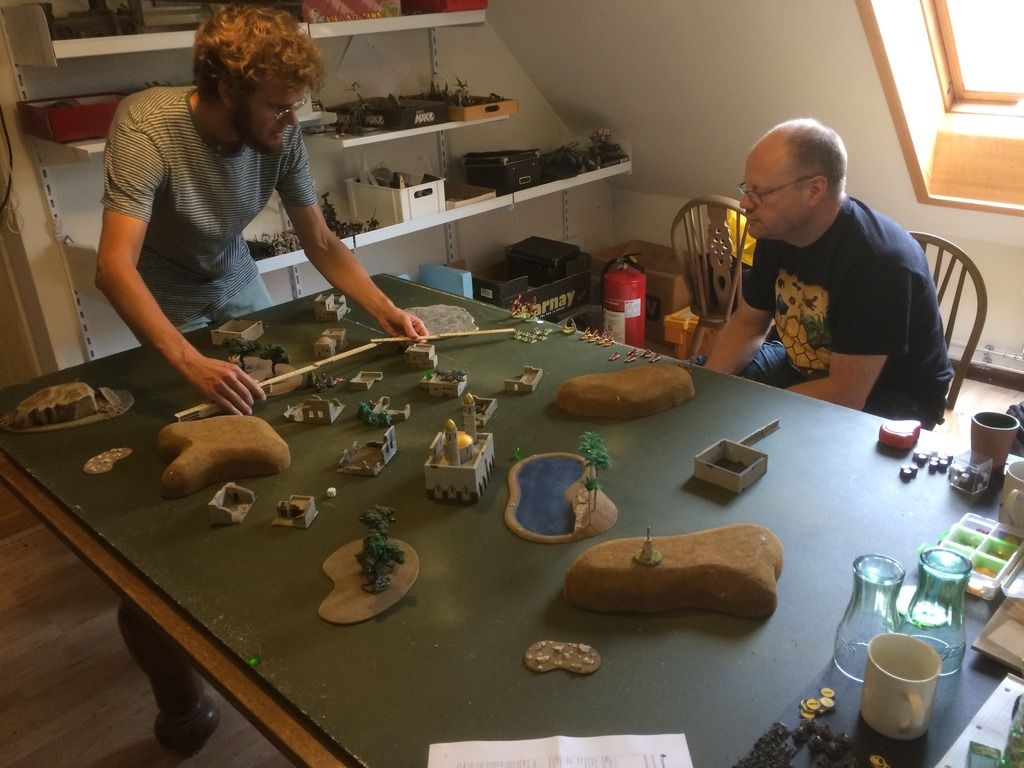 Frække flyvere kommet og lægger pres på mit artilleri
En swarm har taget dækning bag noget fortification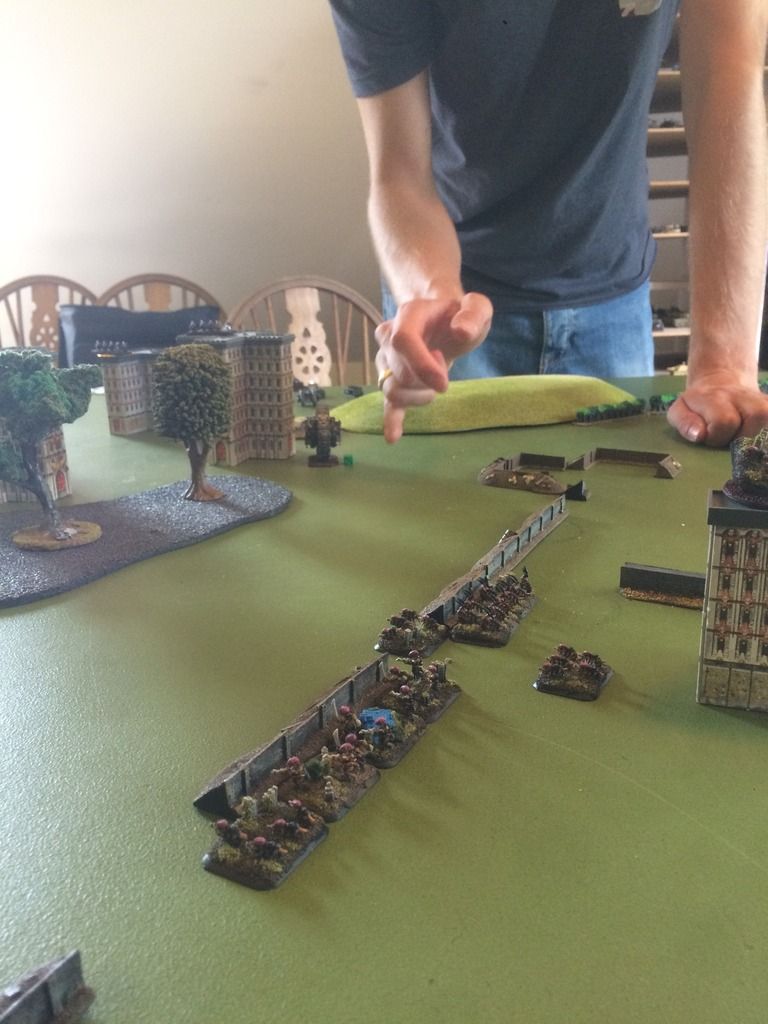 Chaos krigerne rykker forsigtigt frem og lægger pres på nidderne med skydning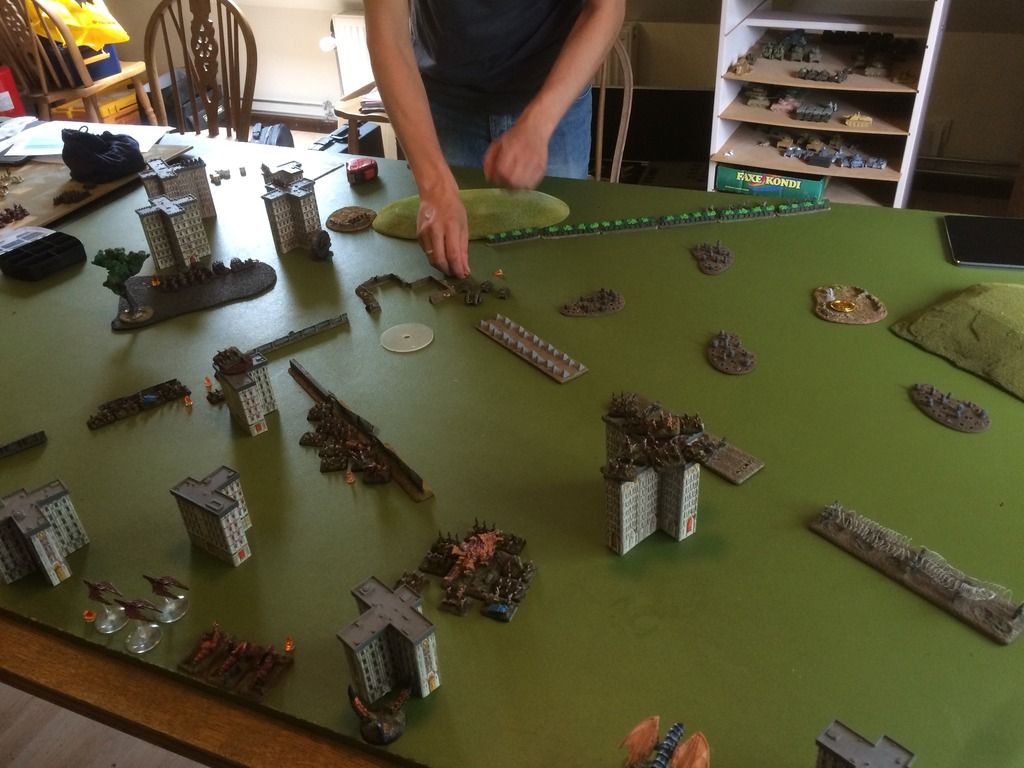 Store beslutninger skal tages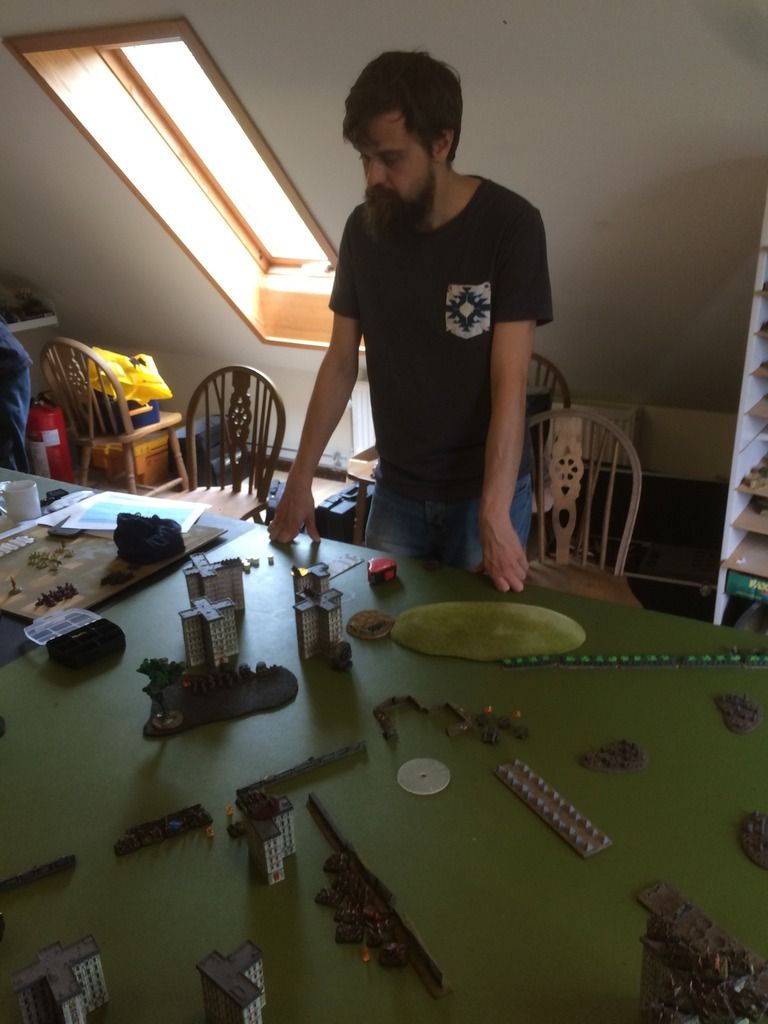 Nidderne er blevet presset i bund af teleporting terminators og predators med lidt for meget skydning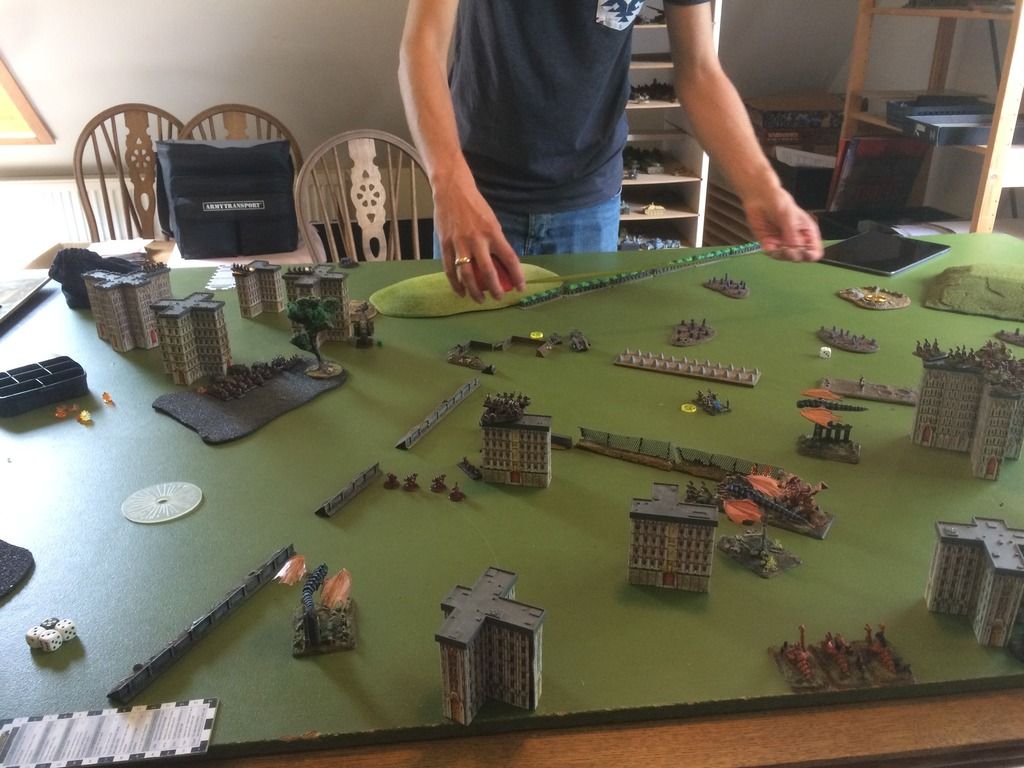 Modstanderens dyreste unit
Dominatrix og Harridan går til modangreb på Terminators og udsletter chaos krigerne
En harridan lægger pres på nogle nærkamps chaos krigere med lidt ekstra daemons som lige kom fra the Warp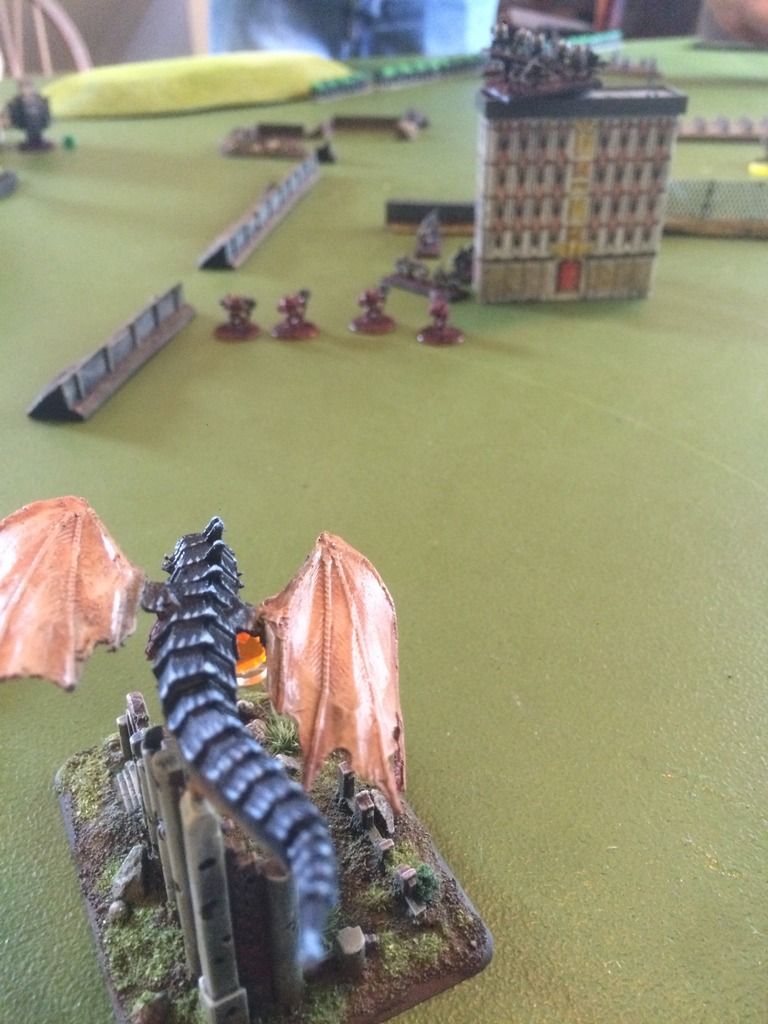 Flyvere lægger pres på Harridanen ovenfor
Den store kamp sidst i spillet. De to dyreste units mod hinanden + diverse supporting fires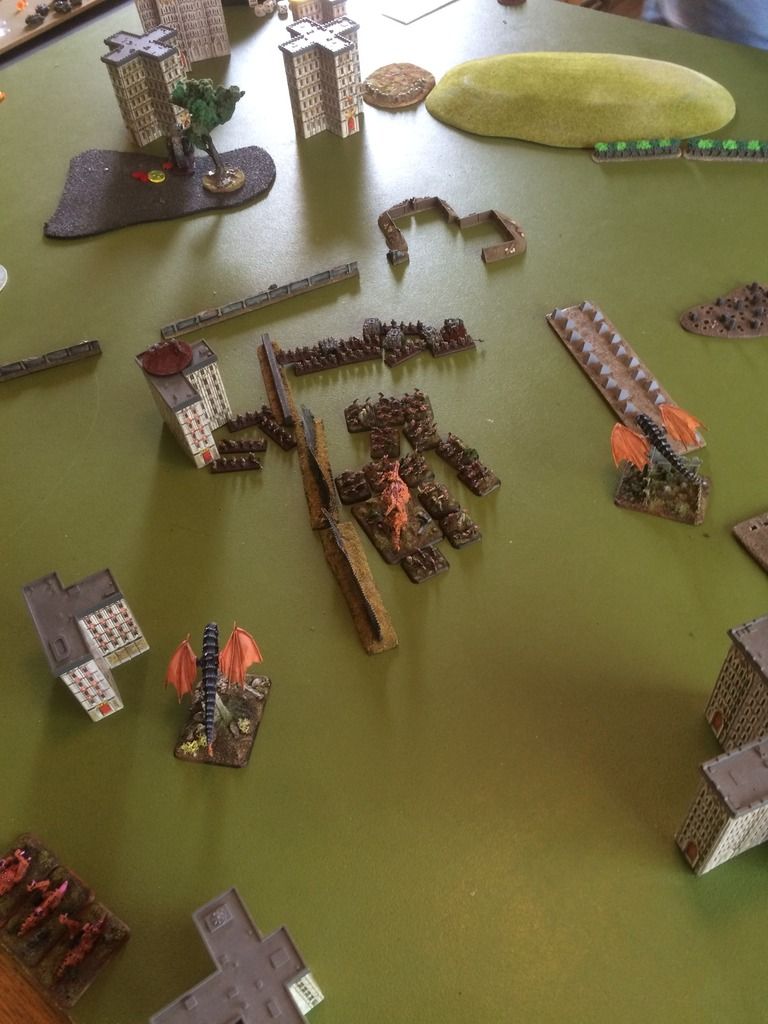 Dominatrixen gør det godt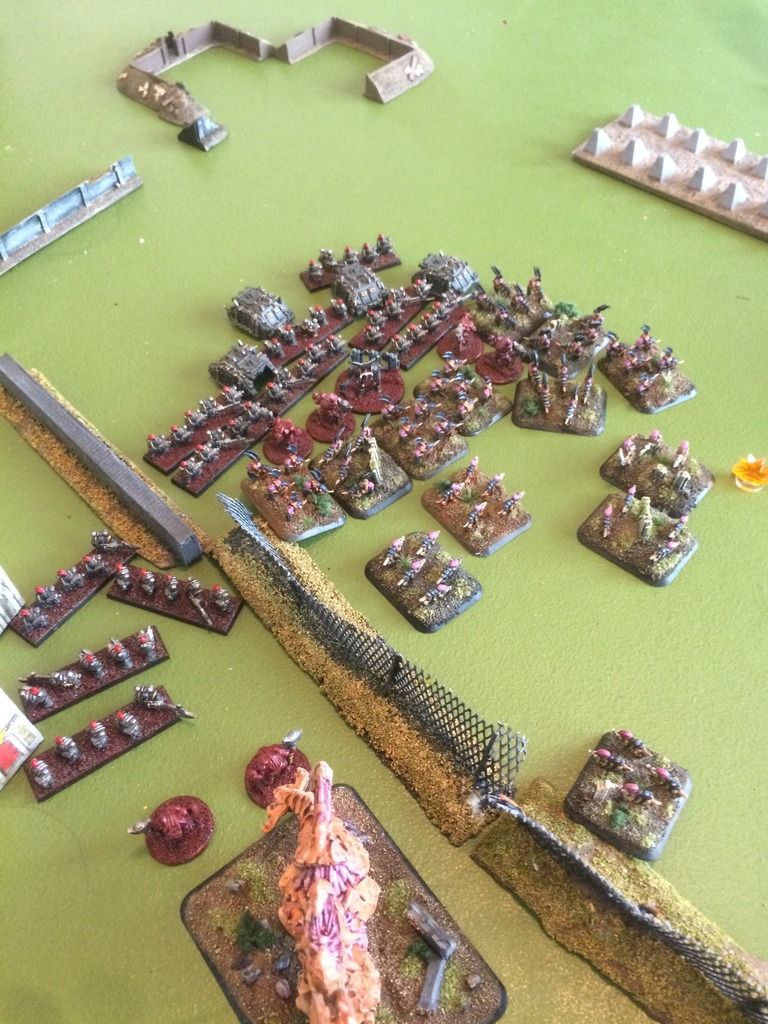 Ikke flere billeder fra den kamp. Mener kampen ender 2-0 til Nidderne
Kamp 2 mod Stephans Eldars.
Hans tropper er bedre taktisk end mine og bedre til at skyde. Han vælger derfor en skrå deployment, for at øge afstanden mellem de sultne Nidder og de skydeglade Eldars
Efter deployment, med de meste af Niddernes hær så tæt på Eldars som muligt, med en enkelt lille swarm og Harridan på flanken
Eldars deployment i hjørnet som de kyllinger de er ;-)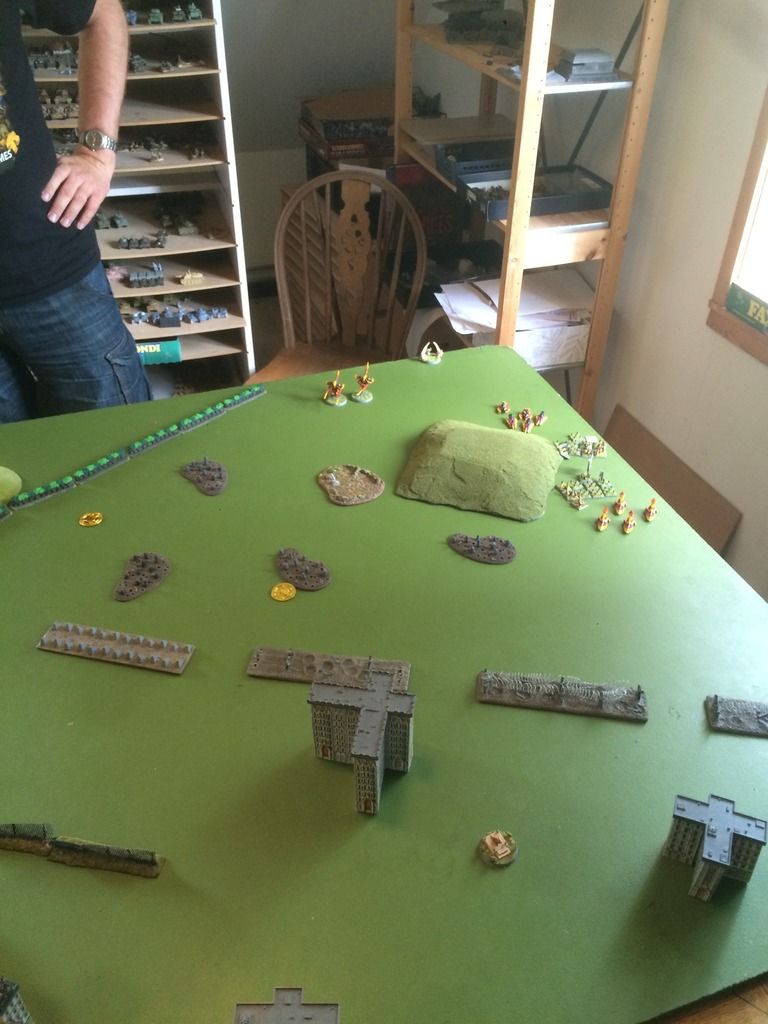 Overview
Målet set fra mit Artilleri
Harridan afmærker sit mål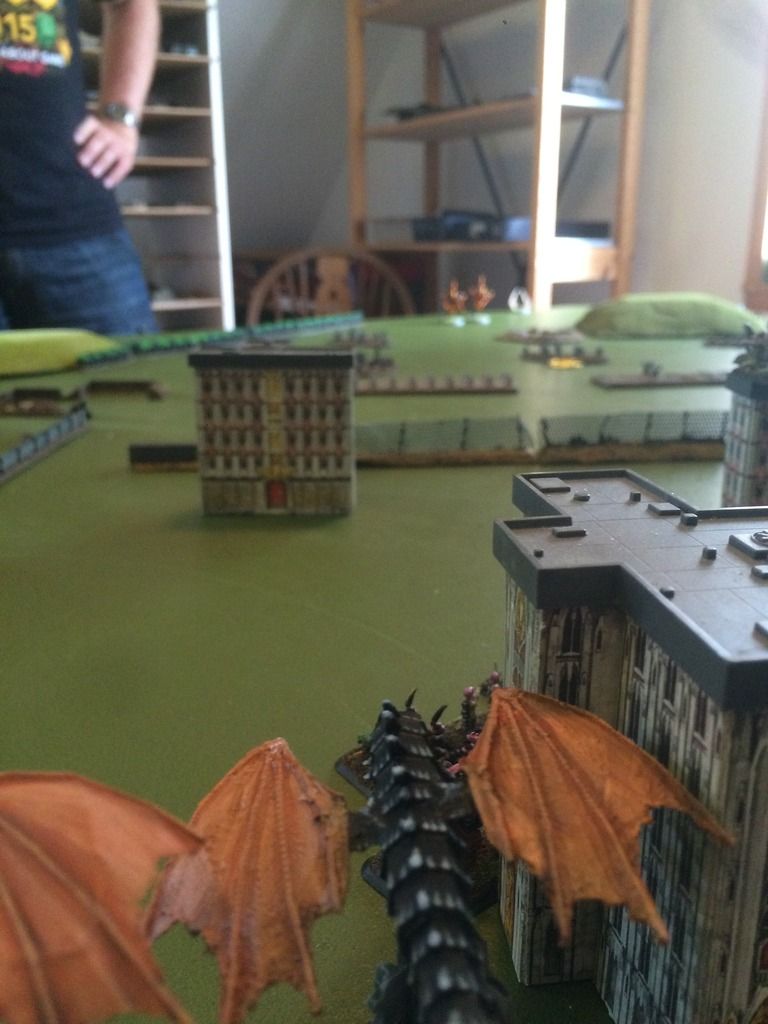 Eldars rykker frem på flanken og lægger pres på de yderste Nid units
Nidderne er rykket godt frem, så meget de nu kan uden at have hovedet under armen
Eldars unit til 600!!! point indtager bygningen på min højre side, og sender swarmen i en taktisk retræte
Den mægtige Eldar General tænker og lægger planer for hvordan han bedst muligt stopper de sværmende tyranidder som hastigt lægger pres på Eldarne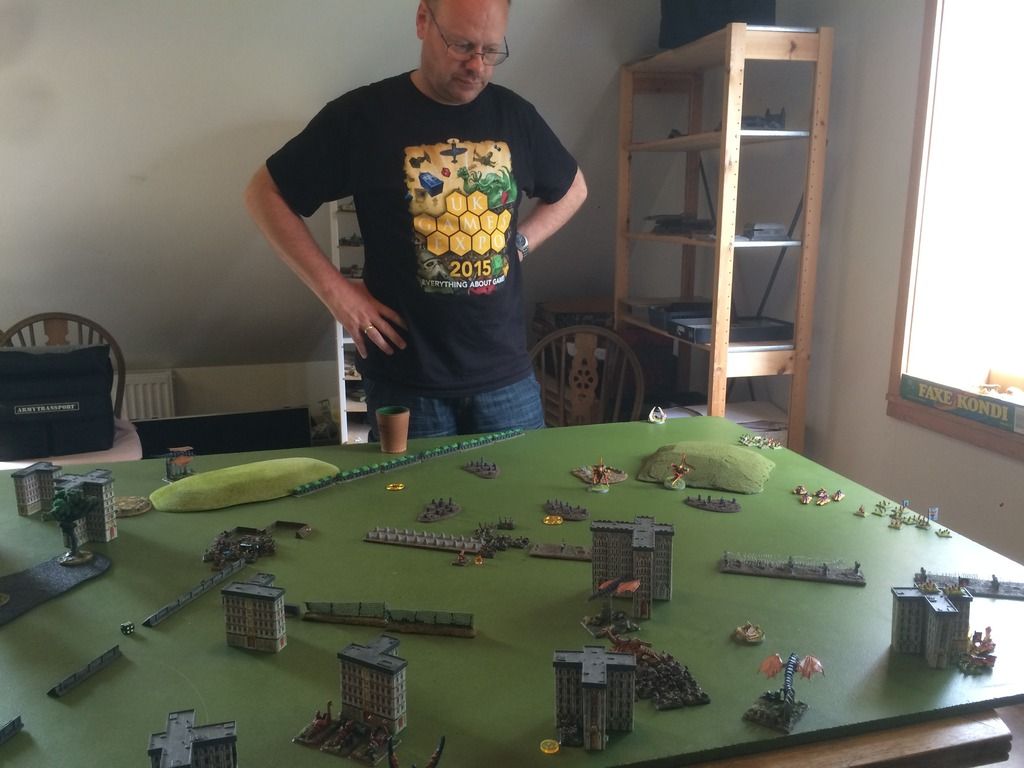 Eldars er blevet fjernet fra bygningen på højre side, men en enkelt meget frygtløs overlevende wraithguard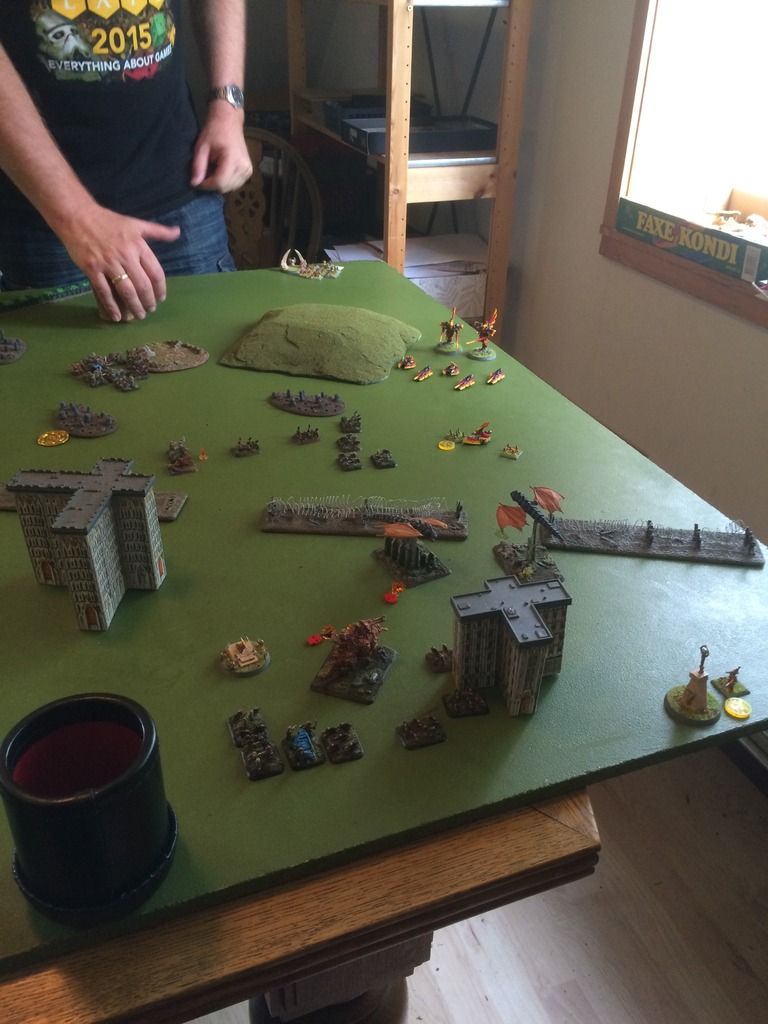 Eldars er presset i bund, men har mulighed for at bevæge sig forfærdelig langt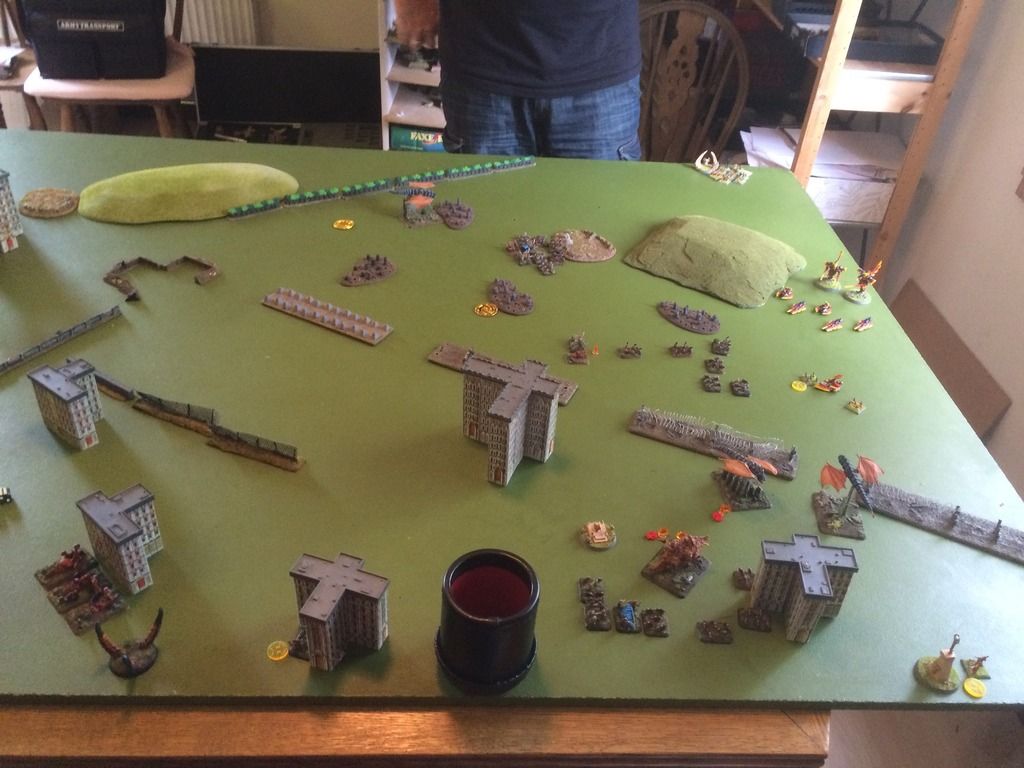 Store beslutninger skal tages
De to Eldar titaner tager objectivet nederst til højre og lægger pres på Dominatrixen med alle deres Macro Weapon attacks. Det skal dog vise sig at Dominatrixen saver 'Like a Boss'
Det ender med en stor nærkamp nede i hjørnet med Dominatrix + venner mod de to Titaner. Ender med den ene Titan går ned og den anden breaker og laver en taktisk tilbagetrækning.
Nidderne kan derfor sikre sig nogle strategiske positioner og vinder 2-0 mener jeg.
Tak for en rigtig hyggelig dag